会社案内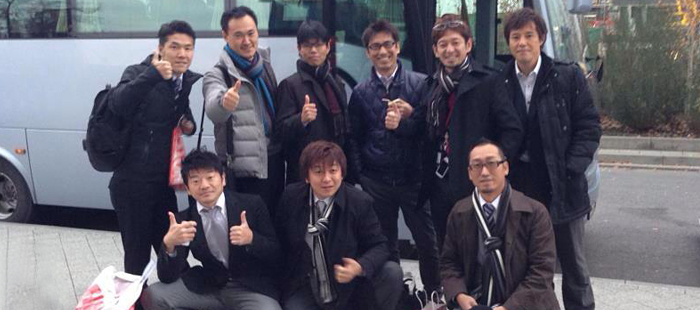 ひと月5万円もあれば、世界中との商取引が可能な時代となりました。私たち、インデックスライツは製造業出身者だけで設立した、 ものづくりのプロフェッショナル集団です。あなたの技術や製品の魅力を、あなたの代わりに世界中の企業のCEOやバイヤーへと的確に伝え、着実にビジネスへとつなげていきます。

Toyota and Honda do not manufacture their products, world-class quality cars, all within their company. Behind the global scale businesses of Japan stand numerous small plants possessing their own unique technology. These are suppliers that are accomplished in various fields such as casting, cutting, and surface treatment. They are the reason Japanese companies can compete on a global level. Within this pool of talent, we know that you will be able to find new partners who can offer new solutions to your projects.
Indexrights Co. Ltd. is Japan's only company that is one step ahead in identifying such small to medium manufacturing companies. We collect information that is specific to manufacturing, and export it to the world in English.
Through the free magazine 'Indexrights', published six times a year, our portal site 'find the solution', and our regular e-newsletter, you will receive the newest information on Japan's small to medium manufacturers. We sincerely believe that the information on products and technology from just one issue of our magazine, or one e-newsletter, will bring new value to your business, resulting in an incredible advantage. Bringing new inspiration to your projects and undertaking, this information will be the key in carving out a new future.
If there is anything more you would like to know about the products or technology featured in our media, we can quickly send you samples or a brochures from one of our 3 overseas bases located in Frankfurt, Silicon Valley, and Singapore. We also plan on expanding to the Middle East and Russia soon. Our overseas bases will be equipped with showrooms, making it possible to see actual products or videos of manufacturing processes, as well as offering the possibility to conduct business without having to visit Japan. Our sales representatives posted around the globe, each of them specialists in specific areas, are available to assist you with any further needs.
These amazing suppliers of Japan, only undiscovered due to their small scale, are here and eagerly waiting. To tap into these resources, all you have to do is to cross the ocean and contact these them yourself. Your own new potential will be fully unleashed when you take into your hands a copy of our free magazine; Indexrights.

Toyota und Honda fertigen ihre Produkte, Automobile in Weltklasse-Qualitat, nicht vollstandig innerhalb ihrer eigenen Unternehmen. Hinter den weltweit agierenden Unternehmen Japans stehen zahlreiche kleinere Betriebe mit ihren eigenen einzigartigen Technologien. Dies sind Zulieferer, die auf verschiedenen Gebieten versiert sind, wie zum Beispiel Giesen, Schneiden und Oberflachenbehandlung. Sie sind der Grund dafur, dass japanische Unternehmen weltweit konkurrenzfahig sind. Wir sind uns sicher, dass Sie in der Lage sind, innerhalb dieses Talentpools neue Partner zu finden, die neue Losungen fur Ihre Projekte anbieten konnen.
Indexrights Co. Ltd. ist Japans einziges Unternehmen, das bei der Identifizierung solcher kleinen bis mittelstandischen Herstellerfirmen einen Schritt voraus ist. Wir sammeln herstellungsspezifische Informationen und verbreiten sie in englischer Sprache in die Welt.
Durch das kostenlose Magazin "Indexrights", das sechsmal pro Jahr erscheint, unser Portal "find the solution" und unseren regelmasigen elektronischen Newsletter erhalten Sie die neuesten Informationen uber Japans kleine bis mittelstandische Herstellerfirmen. Wir glauben fest daran, dass die Informationen uber Produkte und Technologien aus nur einer einzigen Ausgabe unseres Magazins oder einem einzigen elektronischen Newsletter Ihrem Geschaft einen Wertzuwachs bringen, der zu einem unglaublichen Vorteil fuhrt. Indem sie neue Inspirationen in Ihre Projekte und Unternehmungen bringen, werden diese Informationen der Schlussel fur die Gestaltung einer neuen Zukunft sein.
Falls Sie weitere Fragen zu den Produkten oder Technologien haben, die wir in unseren Medien vorstellen, konnen wir Ihnen von einem unserer 3 Auslandsstandorte in Frankfurt, Silicon Valley und Singapur aus kurzfristig Proben oder eine Broschure zusenden. Wir planen auch eine baldige Expansion in den Mittleren Osten und nach Russland. Unsere auslandischen Standorte werden mit Vorfuhrraumen ausgestattet, so dass es moglich sein wird, die tatsachlichen Produkte oder Videos zu den Herstellungsprozessen anzusehen. Weiterhin bieten sie die Moglichkeit, Geschafte abzuschliesen, ohne nach Japan reisen zu mussen. Unsere rund um den Globus stationierten Handelsvertreter, jeder von ihnen ein Spezialist auf bestimmten Gebieten, stehen bereit, Ihnen bei weiteren Bedurfnissen zu helfen.
Diese wunderbaren japanischen Zulieferer, die nur aufgrund ihrer geringen Betriebsgrose bisher unentdeckt blieben, sind hier und erwarten Sie. Um diese Ressourcen anzuzapfen, mussen Sie nur den Ozean uberqueren und sie selbst kontaktieren. Ihr eigenes neues Potenzial wird voll entfaltet, wenn Sie ein Exemplar unseres kostenlosen Magazins in die Hand nehmen: Indexrights.
Toyota e Honda non fabbricano per intero i loro prodotti, automobili di livello mondiale, all'interno delle loro rispettive aziende. Dietro le aziende giapponesi su scala mondiale operano numerose piccole fabbriche, che possiedono le loro tecnologie proprietarie esclusive. Si tratta di fornitori esperti in vari campi, quali fusione, taglio e trattamento delle superfici, e rappresentano il motivo per cui le aziende giapponesi sono in grado di competere a livello mondiale. Nell'ambito di questo pool di talenti, siamo certi che riuscirete a trovare nuovi partner in grado di offrirvi nuove soluzioni per i vostri progetti.
Indexrights Co. Ltd. e l'unica azienda giapponese che si trova un passo avanti nell'identificare queste piccole-medie aziende di produzione. Noi raccogliamo informazioni specifiche del settore della produzione e le esportiamo in tutto il mondo in lingua inglese.
Attraverso la rivista gratuita Indexrights, pubblicata sei volte all'anno, il sito del nostro portale "find the solution" ("Trova la soluzione") e la nostra e-newsletter periodica, riceverete le informazioni piu aggiornate sui produttori di piccole-medie dimensioni in Giappone. Siamo sinceramente convinti che le informazioni su prodotti e tecnologie ricavate anche da un solo numero della nostra rivista, o da una sola e-newsletter, offriranno nuovo valore alla vostra attivita, risultando in uno straordinario vantaggio. Queste informazioni, fornendo una nuova ispirazione ai vostri progetti e alle vostre imprese, saranno la chiave nel plasmare un nuovo futuro.
Qualora desideriate ulteriori informazioni relativamente ai prodotti o alle tecnologie trattati nei nostri media, possiamo inviarvi rapidamente dei campioni o una brochure da una delle nostre 3 sedi all'estero, situate a Francoforte, nella Silicon Valley e a Singapore. Prevediamo anche di espandere prossimamente la nostra attivita in Medio Oriente e in Russia. Le nostre sedi all'estero saranno dotate di saloni d'esposizione che consentiranno di vedere prodotti reali o video dei processi di produzione, offrendo anche la possibilita di svolgere attivita commerciali senza dover visitare il Giappone. I nostri rappresentanti di vendita situati in tutto il mondo, ognuno dei quali specialista in settori specifici, sono disponibili per assistervi relativamente a qualsiasi vostra ulteriore esigenza.
Questi straordinari fornitori giapponesi, che non sono stati scoperti solo a causa delle loro piccole dimensioni, sono a disposizione e attendono con vivo interesse di essere contattati. Per accedere a queste risorse dovete solo attraversare l'oceano e contattarli voi stessi. Il vostro nuovo potenziale potra essere pienamente sfruttato, quando prenderete in mano una copia della nostra rivista gratuita Indexrights.

Les produits des constructeurs Toyota et Honda, des voitures de qualite superieure, ne sont pas fabriques uniquement dans leurs usines. Les activites internationales du Japon reposent sur de nombreuses petites usines qui possedent une technologie unique qui leur est propre. Il s'agit de fournisseurs qui sont specialises dans divers domaines tels que la fonte, la decoupe et le traitement de surface. Voila pourquoi les compagnies japonaises sont en mesure de rivaliser avec leurs concurrents au niveau mondial. Dans ce vivier de talents, vous trouverez surement les partenaires qui stimuleront vos projets avec des solutions novatrices.
Indexrights Co. Ltd. est une societe entierement japonaise, pionniere dans l'identification de ces petites et moyennes entreprises de production. Les informations que nous collectons sont propres au secteur de l'industrie, et nous les mettons a disposition du monde entier, en anglais.
Grace au magazine gratuit ≪ Indexrights ≫, publie six fois par an, a notre site portail ≪ find the solution ≫ [Trouvez la solution] et a notre newsletter electronique periodique, vous disposerez des toutes dernieres informations relatives aux petits et moyens fabricants du Japon. Nous pensons sincerement qu'il suffira d'un seul numero de notre magazine ou newsletter pour que vous convertissiez les informations sur les produits et les technologies que vous y decouvrirez, en valeur ajoutee pour votre entreprise et que vous preniez un avantage competitif important. Ces informations seront essentielles pour batir un nouvel avenir, donnant une nouvelle inspiration pour realiser vos projets et respecter vos engagements.
Si vous souhaitez en savoir plus sur les technologies ou produits traites dans nos medias, nous pouvons vous envoyer rapidement des echantillons ou des brochures de l'une de nos trois bases etrangeres situees a Frankfort, dans la Silicon Valley et a Singapour. Nous envisageons egalement de nous etendre prochainement au Moyen-Orient et en Russie. Equipees de showrooms, nos bases a l'etranger vous permettront de visualiser en direct les produits ou les videos des processus de fabrication et d'exercer vos activites sans avoir a vous deplacer au Japon. Nos commerciaux, tous experts dans leurs domaines, sont bases aux quatre coins du monde pour repondre a tout moment a vos besoins futurs.
Ces fournisseurs japonais exceptionnels, meconnus en raison de leur petite taille, sont bien presents et vous attendent avec beaucoup d'impatience. Pour puiser dans ces ressources, il vous suffit de traverser l'ocean et de les contacter directement. Des que vous aurez entre les mains une copie de notre magazine gratuit ≪ Indexrights ≫, votre nouveau potentiel sera sans Indexrights.

Toyota y Honda no fabrican sus productos ?coches de primera calidad? integramente dentro de su empresa. Detras de las empresas japonesas de escala mundial existen multitud de pequenas plantas que poseen su propia tecnologia exclusiva. Se trata de proveedores que desempenan su trabajo en campos diversos como la fundicion, el corte o el tratamiento de superficies, y son el motor que permite a las empresas japonesas competir a nivel mundial. Dentro de este acervo de talentos, estamos seguros de que podra encontrar nuevos socios capaces de ofrecer nuevas soluciones para sus proyectos.
Indexrights Co. Ltd. es la unica empresa de Japon situada a la vanguardia de la identificacion de estas pequenas y medianas empresas fabricantes. Recopilamos informacion especifica del sector de la fabricacion y la exportamos al mundo en ingles.
A traves de la revista gratuita Indexrights, publicada seis veces al ano, nuestro portal find the solution y nuestro boletin electronico periodico, recibira la informacion mas reciente sobre las pequenas y medianas empresas fabricantes japonesas. Creemos sinceramente que la informacion sobre productos y tecnologia contenida en uno solo de los ejemplares de nuestra revista o de nuestro boletin sera de gran utilidad para su empresa, y le aportara una increible ventaja. Esta informacion supondra una fuente de inspiracion para sus proyectos y sera la clave para forjar un nuevo futuro.
Si desea obtener mas informacion sobre los productos o la tecnologia mencionados en nuestros medios, podemos enviarle rapidamente muestras o folletos desde una de nuestras tres bases del extranjero ubicadas en Francfort, Silicon Valley y Singapur. Planeamos tambien expandirnos a Oriente Medio y Rusia proximamente. Nuestras bases del extranjero se equiparan con salas de exposicion que permitiran ver productos reales o videos de los procesos de fabricacion, ademas de ofrecer la posibilidad de entablar negocios sin necesidad de visitar Japon. Nuestros representantes de ventas estan repartidos por todo el mundo, cada uno de ellos es especialista en un area concreta y todos ellos estan disponibles para ayudarle en todo aquello que necesite.
Estos asombrosos proveedores de Japon, aun sin descubrir solamente debido a su pequena escala, estan presentes y esperando con gran interes. Para acceder a estos recursos, todo lo que debe hacer es cruzar el oceano y contactar con ellos usted mismo. Estas nuevas oportunidades a su alcance se pondran totalmente de manifiesto cuando tenga en sus manos una copia de nuestra revista gratuita Indexrights.

会社名

株式会社インデックスライツ
所在地

名古屋headquaters:〒480-0104 愛知県丹羽郡扶桑町大字斎藤字宮添166番
ドイツ:OMB Management GmbH, Im Mediapark 8, 50670 Köln, Germany
アメリカ:1202 Kifer Rd. Sunnyvale 94086 USA
シンガポール:11 Changi North Street 1 #03-03/04 Singapore 498823, Singapore
取締役社長

飛山 昌久
創立

2013年3月11日(平成25年)
取引先銀行

名古屋銀行
TEL

名古屋:0120-947-456
東 京:042-659-0004
FAX

名古屋:0587-96-9731
東 京:042-651-9794
代表アドレス

info@indexrights.jp